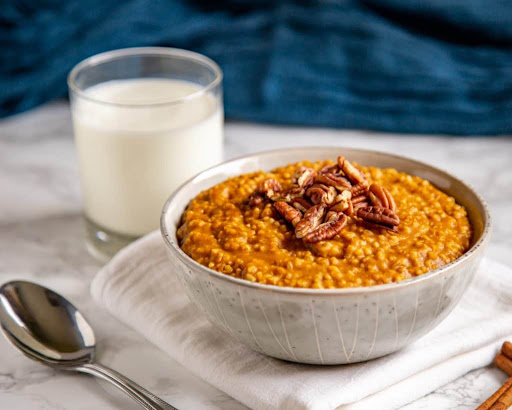 1/2 teaspoon salt
1/4 teaspoon allspice
1/4 teaspoon cloves
1/2 teaspoon nutmeg
1 1/2 teaspoons cinnamon
1/4 cup maple syrup (optional)
1 cup pumpkin puree
3 cups water
1 cup The Grain Market Steel Cut Oats
2 tablespoons butter
Add butter to pressure cooking pot, select Sauté. When butter is melted add the oats, water, and pumpkin.
Seal the lid and close the pressure release valve. Press "Pressure Cook" until it's on "Normal" and press the "Pressure Level" button until it's on "High Pressure". Then press the +/- buttons until you see 00:10 for 10 minutes.  The Instant Pot will say "On" until it gets up to pressure and then will start counting down from 10. When it's done, just leave it alone (natural pressure release) for 10 minutes, then quick release the rest of the pressure after that.
When the float valve is down, press "Cancel" to turn off the Instant Pot and open the lid.  Add the spices, salt, and maple syrup (if using) and stir. Let the oats sit in the pressure cooker for 5-10 minutes to let the oats thicken a bit, then serve with nuts, milk, additional maple syrup, and any additional toppings.