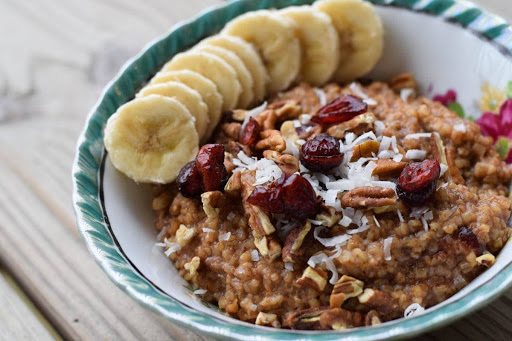 Honey or Maple Syrup Sweeten to taste
1/4 cup Dried Cranberries
1/4 tsp Vanilla
1/4 tsp Nutmeg
2 tsp Cinnamon
1 pinch Salt
1 cup apple cider
2 cups water
1 cups The Grain Market Steel Cut Oats
Mix steel cut oats, water, apple cider, salt, cinnamon, nutmeg, vanilla, and cranberries together in instant pot.
Close the lid to the instant pot and set on manual for 3 minutes. Once it beeps that it has finished the 3 minute cook time, allow to depressurize naturally.
The oats will look liquidy on the top. Just stir and dip into bowls. If you like them sweetened, mix in honey or maple syrup to taste. Top with fruit, nuts, coconut flakes, or any other toppings you love.
Enjoy!