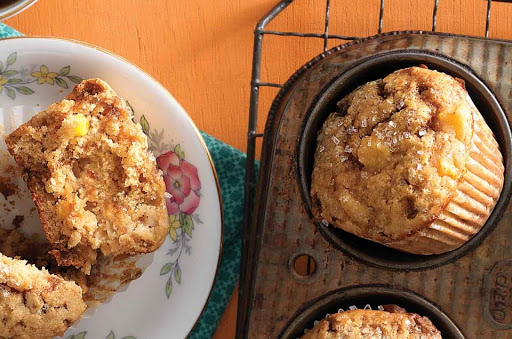 1 ½ Cup Flour
½ Sugar
½ Cup The Grain Market Oats
½ Tsp Salt
1 Tsp Cinnamon
2 Tsp Baking Powder
⅓ Cup Melted Coconut Oil
1 Large Mashed Banana
½ Cup Almond Milk
1 ½ Tsp Vanilla
1 Cup Chopped Peaches
Heat Oven to 400 degrees F. 
Line Muffin tin with 10 muffin cups. Set aside. 
Whisk flour, sugar, grain market oats, salt, cinnamon, baking powder, and salt in a large bowl.
 Add oil, mashed banana, almond milk, and vanilla. Stir until just combined. 
Fold in diced peaches. Top with sprinkle of sugar and oats. 
Bake for 15 - 18 minutes.