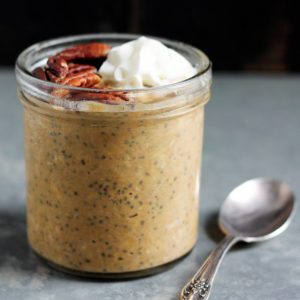 1/8 teaspoon ground ginger
1/8 teaspoon nutmeg
1/4 teaspoon cinnamon
2 teaspoons The Grain Market chia seeds
1/2 cup The Grain Market Rolled Oats
1/2 teaspoon vanilla extract
1 tablespoon pure maple syrup
1/4 cup pumpkin puree
1/2 cup unsweetened vanilla almond milk
1/4 cup plain nonfat greek yogurt (or use vanilla!)
In a medium bowl, mix together greek yogurt, almond milk, pumpkin puree, vanilla and maple syrup until well combined. 
Stir in oats, chia seeds and spices. 
Pour into a glass jar or container and place in fridge for 4 hours or overnight. Makes 1 serving of pumpkin overnight oats. Enjoy!!