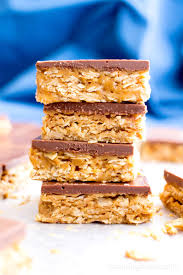 ¾ Cup Unsalted Butter
1 ½ Cup Sugar
½ Cup Milk
1 Tsp Vanilla
½ Cup Creamy Peanut Butter
3 ¾ Cup The Grain Market Rolled Oats, 1 cup blended just a bit. This helps the bars form.
1 ¼ Cup Semi Sweet Chocolate Chips
Melt Butter in large saucepan. Once the butter has melted, add sugar, milk, vanilla and peanut butter. Whisk until combined. 
Turn the heat up to medium high and bring to boil for 4 minutes, while stirring constantly. Remove pan from heat and add Grain Market oats. Stir until combined. 
Spread the mixture evenly in a lined 9in by 9in baking dish. Immediately sprinkle chocolate chips on top of the oats mixture. The heat will melt the chocolate chips, after a minute you can spread the chocolate mixture. Allow to cool before cutting.