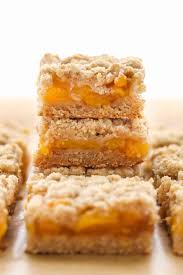 2 sticks salted butter, cut into squares, plus more for greasing pan
1 1/2 cups all-purpose flour
1 1/2 cup The Grain Market Rolled Oats
1 cup packed brown sugar
1 teaspoon baking powder
1/2 teaspoon salt
1 - 12-ounce Jar Peach Jam
Preheat the oven to 350 degrees F. Butter a 9-by-13-inch rectangular pan.
Mix together the butter, flour, oats, brown sugar, baking powder and salt. Press half the oat mixture into the prepared pan. Spread the Peach jam over mixture. Sprinkle the other half of the oat mixture over the top and pat lightly. 
Bake until light brown, 30 to 40 minutes. Let cool completely, and then cut into squares. Enjoy!