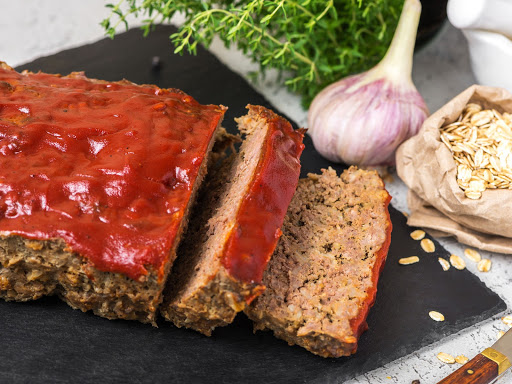 2 Pounds Ground Beef
1 Small Onion Diced Fine
1 Large Egg Lightly Beaten
½ Tsp Garlic Minced
¾ Cup The Grain Market Rolled Oats
¾ Cup Milk
¼ Cup Ketchup (plus more for topping)
1 Tbsp Worcestershire Sauce
1 ¼ Tsp Salt
¼ Tsp Black Pepper
½ Tsp Dried Thyme
Preheat oven to 350 F. Grease loaf pan. 
Combine ground beef, onion, egg, garlic, Grain Market Oats, milk, ketchup, worcestershire sauce, salt, pepper, and thyme. Mix until combined.
 Place mixture into loaf pan. 
Bake in preheated oven for 1 hour and 10 minutes; remove from oven, carefully pour off excess grease. Spread ketchup over the meatloaf and return to oven for 15 minutes. Let rest 5 minutes. Serve with mashed potatoes and green beans.