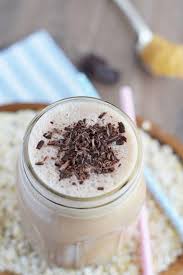 ½ The Grain Market Rolled Oats
1 Cup Ice Cubes
1 Cup Milk
2 Tbsp Peanut Butter
1 Tbsp Cocoa Powder
1 Tbsp Honey
1 Tsp Vanilla
Add Grain Market Oats to blender and pulse 2 or 3 times. 
Add milk, ice, peanut butter, cocoa, honey, and vanilla. 
Blend until smooth. Pour into glass and enjoy!