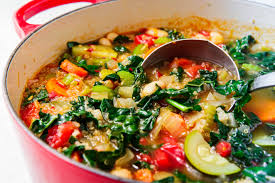 1 - 2 tbsp olive oil
1 onion finely chopped
1 1/2 tsp garlic finely chopped
3 stalks celery diced
4 carrots diced
1/2 tsp sea salt
4 cup chicken or vegetable broth
1 can diced tomatoes
2 zucchini diced
2 big handfuls of spinach
2 cups cooked The Grain Market Quinoa
1/2 tsp red pepper flakes
salt and pepper to taste
In large pot combine olive oil, onion, garlic, celery, carrot and sea salt. Cook on med high until vegetables become bright and crisp not soggy.
Add diced tomatoes, broth, quinoa, red pepper flakes, bring to boil. Add Zucchini and spinach.
Simmer just until Zucchini is slightly cooked
Garnish with shredded parmesan cheese and extra red pepper flakes.
Enjoy!