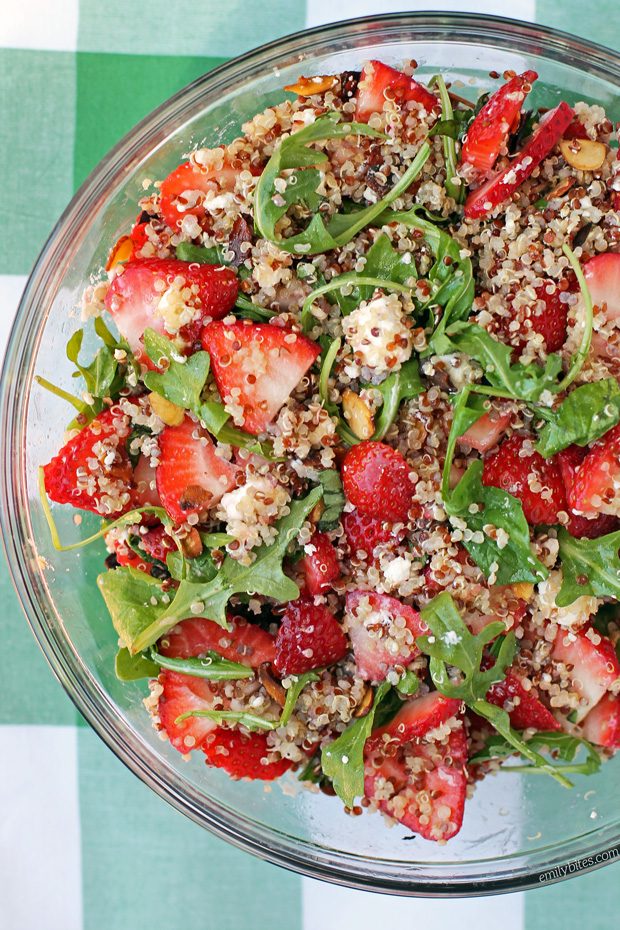 ¼ cup sliced almonds
1 tablespoon olive oil
1 tablespoon fresh squeezed orange juice
1 tablespoon fresh squeezed lemon juice
1 tablespoon apple cider vinegar
1 teaspoon honey
3 cups cooked The Grain Market Quinoa, room temperature 
1 lb sliced fresh strawberries
1-2 tablespoon(s) minced fresh basil
2 oz crumbled goat cheese
1 cup fresh arugula
Place the sliced almonds in a small skillet and spread across the surface. 
Place over medium heat for a few minutes, stirring occasionally until almonds are toasted. Remove from heat and set aside to cool. 
In a small jar, combine the olive oil, orange juice, lemon juice, cider vinegar and honey and shake together until combined. 
In a large serving bowl, combine the quinoa, strawberries, basil, toasted almonds, goat cheese and arugula and stir until mixed. Pour the dressing from over the quinoa mixture and stir until the salad is evenly coated with the dressing. Serve at room temperature or chilled.