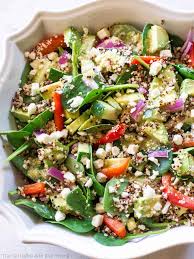 2/3 cup The Grain Market Quinoa
1 1/3 cups water
5 ounces baby spinach about 5 cups
1 avocado pitted and diced
2/3 cup chopped cucumber
1/2 cup red bell pepper strips
1/3 cup chopped red onion
1/4 cup crumbled feta cheese
1/4 teaspoon ground black pepper
1/2 teaspoon sea salt
1 1/2 tablespoons Dijon mustard
2 tablespoons lemon juice
1/4 cup olive oil
Bring the quinoa and 1 1/3 cup water to a boil in a saucepan. Reduce heat to medium-low, cover, and simmer until the quinoa is tender, and the water has been absorbed, about 15 to 20 minutes. Cool.
Top spinach with quinoa, avocado, cucumber, bell pepper, red onion, and feta cheese.
Whisk together olive oil, lemon juice, Dijon mustard, sea salt, and black pepper.  Pour dressing (or toss) over salad right before serving.