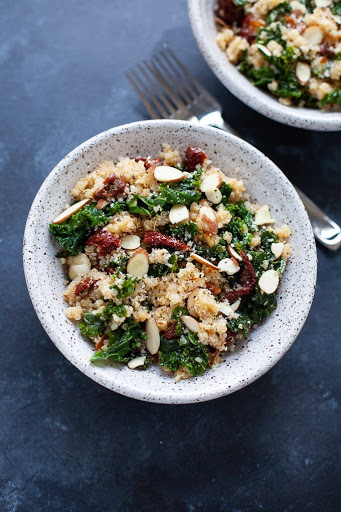 Salt and pepper to taste
Juice from 1/2 large lemon (approx 1 tablespoon)
3 ounces sun-dried tomatoes (approx. 1 cup), diced
3 tablespoons olive oil, divided
1 bunch kale, de-stemmed and roughly chopped
1 cup dry The Grain Market Quinoa
Add 1 cup quinoa to 2 cups of water with a dash of salt. Bring to boil, simmer until moisture is absorbed.
In a large pan, heat 1 tablespoon olive oil over medium heat. Add kale and toss to coat. Add 1/4 cup water and cover, cooking for 3-5 minutes. Uncover, toss, and turn heat down to low. Let cook for another 10-15 minutes, until tender, stirring occasionally, adding more water if needed. Salt and pepper to taste.
Add quinoa and sun-dried tomatoes to saucepan and toss to combine. Remove from heat. 
Add lemon juice and olive oil and toss to coat. Salt and pepper to taste.
Optional toppings: slivered almonds, Parmesan cheese or nutritional yeast