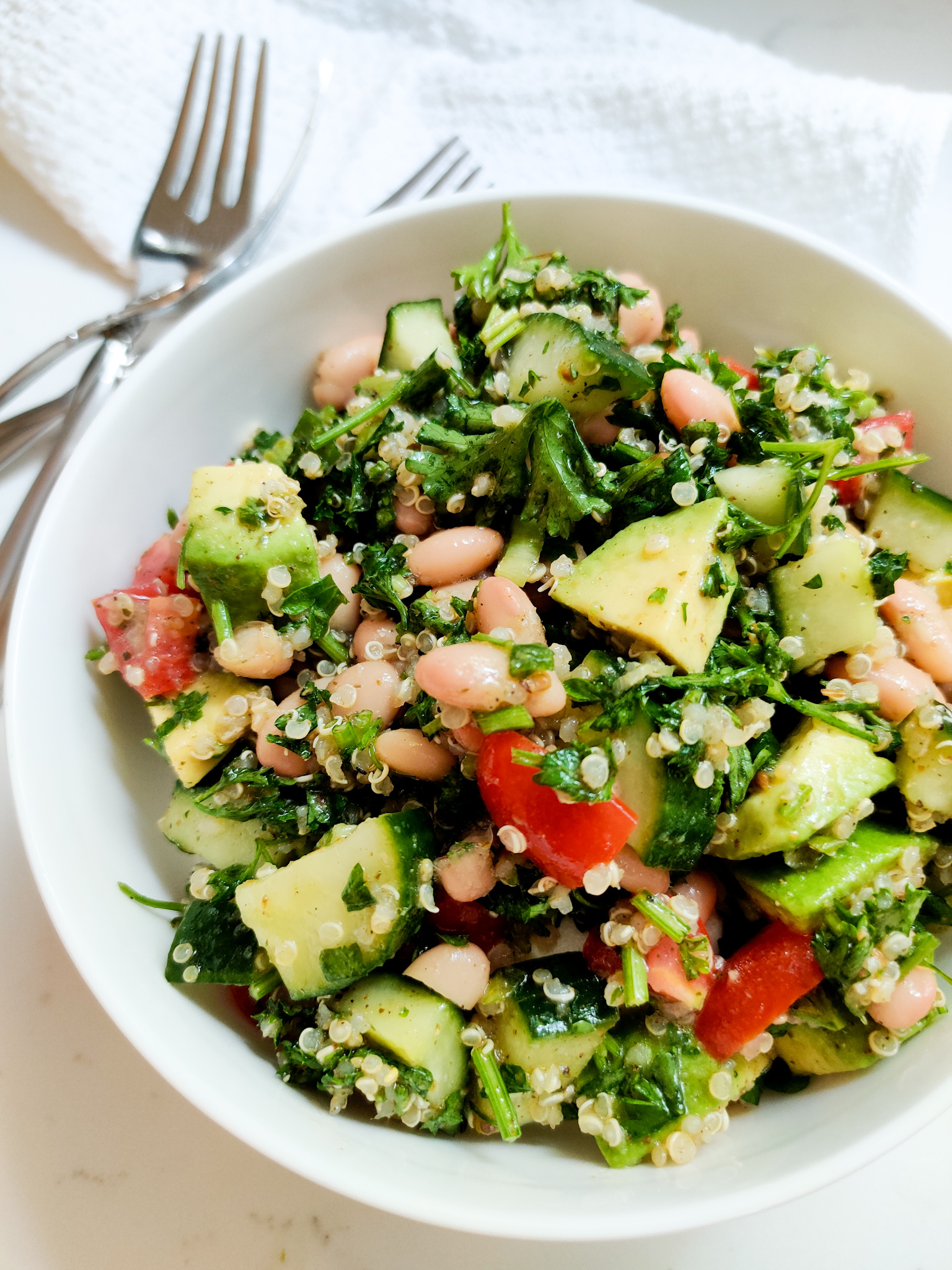 1 bunch parsley
1/2 cup The Grain Market Quinoa
1 english cucumber
1 cup small tomato variety
1 avacodo
1 can white beans, rinsed and drained 
1 batch of Italian dressing
Prepare Italian dressing and set aside.
 Rinse quinoa. Place in a saucepan with 1 cup of water and a shake of salt. Bring to boil.
Continue to boil for 1 - 2 minutes then cover and turn heat to low. Cook until moisture is absorbed.
Chop the parsely, cut the cucumbers into quarters, dice the tomatoes, and cut the avocado into chunks. 
In a large mixing bowl combine parsley, beans, cooled quinoa, cucumbers, tomatoes, and avocado.
Pour the desired amount of dressing over the quinoa mixture and stir to coat.
You can serve immediately, but the flavor is much better after the salad is refidgerated for a few hours. 
Italian Dressing Mix
1 1/4 teaspoon garlic powder
1 tablespoon onion powder
1 1/2 tablespoon oregano
1 tablespoon parsley
1 teaspoon basil
1/4 teaspoon thyme
1 tablespoon sugar
1 1/2 tablespoon salt
1 teaspoon pepper
1/2 teaspoon celery flakes
Place all ingredients in the blender. Pulse until combined. 
To make the dressing take 2 tablespoons of the spice blend, add 1/3 cup of white vinegar, 1/4 cup of olive oil, and 2 - 3 tablespoons of water stir to combine. 
Store in a container for later use.