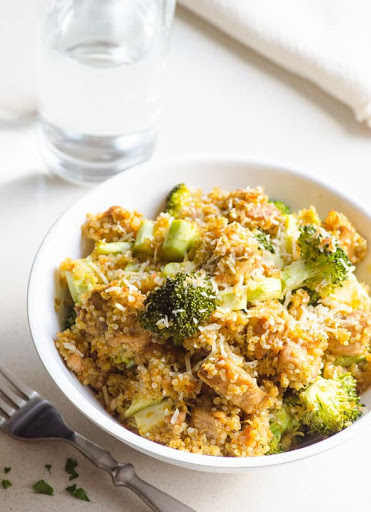 Chicken:
Ground black pepper, to taste
1/2 tsp himalayan pink salt
1/2 tsp allspice (optional but good)
1/2 tsp cumin, ground
1 tbsp olive oil, extra virgin*
2 lbs boneless & skinless chicken breasts, cut into 1" pieces
Quinoa:
1 lb broccoli, chopped
2 bay leaves
1/2 tsp cumin, ground
3/4 tsp himalayan pink salt
3 cups boiling water
1 1/2 cups The Grain Market quinoa, uncooked
1 tsp olive oil, extra virgin
1 large carrot, shredded
3 large garlic cloves, minced
2 medium onions, diced
Preheat large deep skillet or a dutch oven on medium-high heat. Add Chicken ingredients and saute for 10 minutes, stirring occasionally. 
Drain liquid if necessary and cook until golden brown sides appear. 
Transfer to a bowl and set aside.
Add olive oil, onions, garlic, carrot and cook for 3-5 minutes, stirring occasionally. Add pre-cooked chicken, quinoa, water, remaining salt and cumin, and bay leaves; stir. 
Bring to a boil, cover, reduce heat to low and cook for 20 minutes.
Now it's time to add broccoli. At this point quinoa should be cooked al dente. Add broccoli, stir, cover and cook for 5 more minutes. Serve hot.