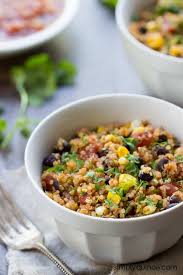 Cilantro to garnish optional
1 cup favorite salsa
1 tablespoon ground Cumin
3 cups cooked The Grain Market Quinoa
1 15 oz can black beans, drained and rinsed
1 cup fresh or frozen corn kernels
Preheat a large skillet over medium heat. Add corn and black beans and cook until corn is tender, about 3 minutes. 
Add quinoa and cumin and stir to combine. Cook until quinoa is hot and begins to get a little crunchy, stirring constantly, about 3 minutes. 
Stir in salsa and cook until everything is combined and quinoa begins to dry out a little more, about 2 minutes. Remove from heat and let cool for 5 - 10 minutes, then fluff with a fork and serve. Garnish with cilantro.