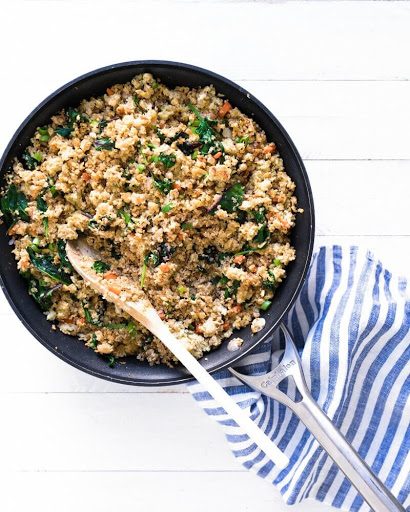 2 Cups Cooked The Grain Market Quinoa
1 Tbsp Olive Oil
½ Cup Sliced Zucchini
1 Small Onion
½ Cup Sliced Carrots
½ Cup Sliced Yellow Squash
3 Cups Spinach
6 - 8 Eggs
Soy Sauce
Salt and Pepper
Saute zucchini, carrots, squash, and onion in olive oil for 5 minutes. 
Remove cooked veggies from pan and scramble eggs. Combine vegetables, eggs, 
quinoa and spinach. Season with soy sauce, salt and pepper. Cook for 2 minutes. 
Serve warm. 
These Veggies are all interchangeable!! We love brussel sprouts and green peppers.