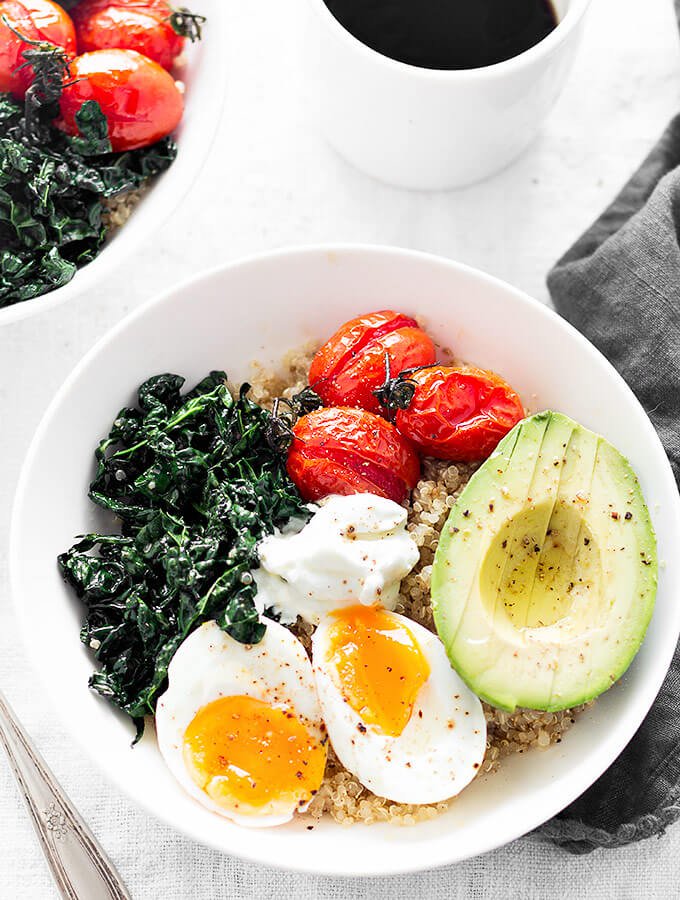 1 large egg, at room temperature
1 1/2 teaspoons olive oil, divided
1/2 teaspoon minced garlic
1 cup kale, roughly chopped
1/2 cup cooked The Grain Market Quinoa
1/3 cup halved cherry tomatoes
1/4 ripe avocado
1/4 teaspoon kosher salt
⅛ teaspoon pepper
Bring 3 inches of water to a boil in a medium saucepan. Add egg; boil 6 minutes. Plunge egg into ice water; let stand 1 minute. Drain and peel. 
Heat 1 teaspoon oil in a small skillet over medium. Add garlic; cook 30 seconds. Add kale; cook, stirring often, until softened, 2 to 3 minutes. Combine quinoa, kale, tomatoes, and avocado in a bowl. 
Drizzle with remaining 1/2 teaspoon oil; season with salt and pepper. Place egg on top; slice egg in half.