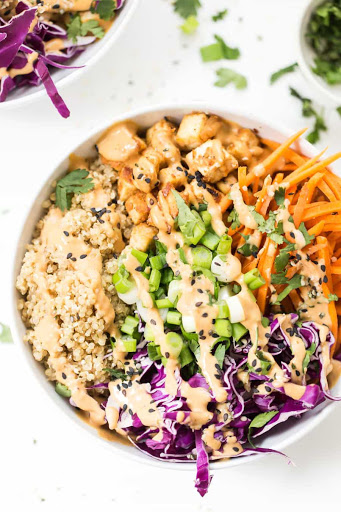 1 Cup Uncooked The Grain Market Quinoa
1 Tsp Ground Ginger 
3 Tsp Tamari
1 Cup Water
1 ¼ Cup Coconut Almond Milk
¼ Cup Peanut Butter
Juice of 1 Lime
1 Tsp Sirracha
1 Block Firm Tofu
2 Cups each Shredded Carrots and Cabbage
1 Bunch of Sliced Scallions
¼ Cup Chopped Cilantro
Add Grain Market Quinoa, ginger, 1 tsp tamari, water, and 1 cup milk to sauce pan.
Bring mixture to boil. Cover and simmer for 15 minutes or until liquid is absorbed. Preheat oven to 400. 
In small bowl whisk together peanut butter, lime juice, sirracha, ¼ cup milk, and 2 tsp tamari. Add Tofu to mixing bowl and lightly coat with ½ the dressing mixture. 
Transfer tofu to greased baking dish and bake 30 minutes or until crispy. Flipping halfway through. 
Divide quinoa, carrots, cabbage, scallions and tofu evenly among 4 bowls. Drizzle dressing on each bowl and garnish with cilantro. Enjoy immediately.