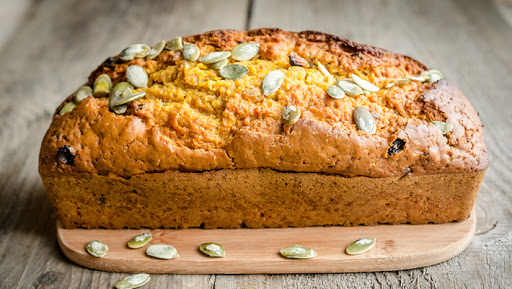 1 ½ cups canned pumpkin puree
2 eggs
¾ cup maple syrup
½ cup low-fat Greek yogurt
3 tablespoons olive oil
1 teaspoon vanilla extract
1 ½ cups all-purpose flour
1 teaspoon baking soda
½ teaspoon baking powder
¼ teaspoon kosher salt
4 teaspoons pumpkin spice
¼ cup The Grain Market Rolled Oats
2 tablespoons The Grain Market Flax Seeds
1 tablespoon brown sugar
2 TBSP Pumpkin Seeds
Preheat oven to 350 degrees F. Coat a 9 x 5 loaf pan with cooking spray. 
In a large bowl, add pumpkin, eggs, maple syrup, yogurt, 2 tablespoons olive oil and vanilla extract. 
Stir together to combine thoroughly. 
In a medium bowl, stir together flour, baking soda, baking powder, salt and pumpkin spice. Slowly add the dry ingredients into the large bowl with the wet ingredients, using a spatula to combine. 
Pour batter into prepared pan.
 In a small bowl, combine remaining 1 tablespoon olive oil with oats, flax seeds and brown sugar. Spread mixture over the top of the batter. 
Bake until a toothpick inserted near the center comes out clean, about 60 to 70 minutes. 
Cool before removing bread from loaf pan.