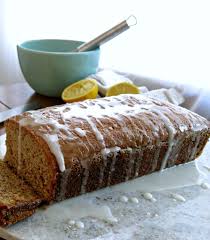 1 tablespoon fresh lemon juice
 1/2 cup powdered sugar
 1 teaspoon vanilla extract
 2 teaspoons grated lemon rind
 1/4 cup vegetable oil
 3/4 cup low-fat buttermilk
 1/2 teaspoon salt
 1/2 teaspoon baking soda
 1 1/2 teaspoons baking powder
 2 cups all-purpose flour
 2 large eggs
 1 cup granulated sugar
 1/4 cup The Grain Market flaxseed
1 tablespoon granulated sugar
Preheat oven to 350°. Coat an 8 x 4-inch loaf pan with cooking spray; sprinkle with 1 tablespoon granulated sugar. 
Place flaxseed in a blender, process until ground to measure about 6 tablespoons flaxseed meal; set aside. 
Combine 1 cup granulated sugar and eggs in a large bowl; beat at high speed of a mixer 3 minutes. 
Combine flaxseed meal, flour, baking powder, baking soda, and salt; stir well. 
Combine buttermilk, oil, rind, and vanilla. 
Add flour mixture to egg mixture alternately with buttermilk mixture. 
Spoon batter into prepared pan. Bake at 350° for 55 minutes or until a wooden pick inserted in center comes out clean. Cool in pan 5 minutes on a wire rack; remove from pan.  
Combine powdered sugar and lemon juice; drizzle over top of loaf.