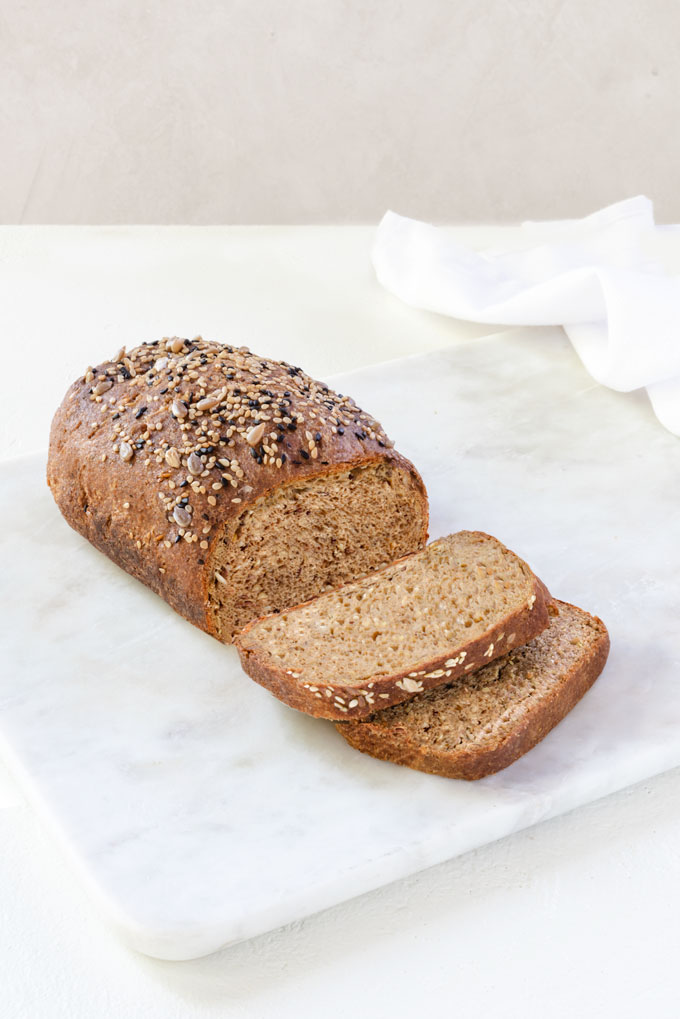 1/2 tsp. Salt
1 tsp. apple cider vinegar
1 tsp. baking soda
1 tsp. baking powder
3/4 cup + 2 Tbsp. water
2 1/3 cups The Grain Market flax seed, ground very fine
Preheat the oven to 425° F
In a large mixing bowl, mix together the ground flax seed,  baking powder, baking soda, and salt. Add the apple cider vinegar and water, and stir until the flaxseed meal becomes sticky and holds together in a lump, for about 30 seconds. Then use your hands to roughly form the dough into a loaf shape. (Don't over-knead the dough. Handle it as little as possible). The loaf should have a nice smooth surface.
Place the loaf into a greased (or parchment paper-lined) loaf pan.  
Mist with water and sprinkle some seeds on top (I use a mix of flax seeds,  chia seeds, and pumpkin seeds). 
Gently press down on the seeds with your palm to make them stick better.
Cover the loaf and let it rest for a few minutes so the flax seed meal absorbs all the water and becomes an integral whole.
Bake the bread at 425°F for 60 minutes.
Remove the bread from the oven and let it cool inside the loaf pan for 10 minutes. Transfer the bread on a cooling rack, and let it cool completely before slicing.