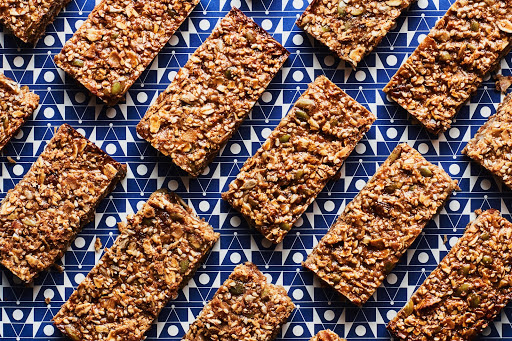 1 Cup The Grain Market Rolled Oats
1 Cup The Grain Market Flax Seed, ground fine
1 Cup (2 scoops) Whey Protein Powder - you choose the flavor
1 Cup Chunky Peanut
3 TBSP Honey
2-5 Tbsp Water
Heat peanut butter and honey in a large microwaveable bowl for 30--45 seconds. Stir to combine. 
Add remaining ingredients (except water). 
Add water one tablespoon at a time (you will need 2-5 tablespoons) until mixture is well mixed. 
Line a 9x9 baking dish with foil or parchment paper. 
Spoon mixture into dish and press hard with hands dipped in warm water. 
Refrigerate for 20-30 minutes.