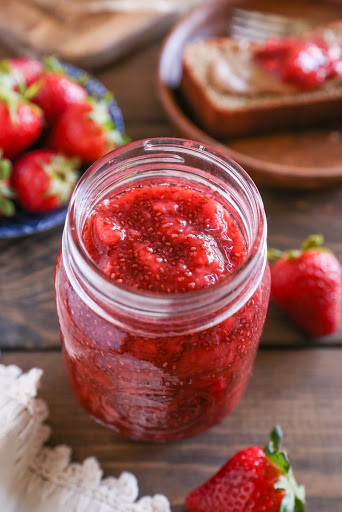 4 cups fresh strawberries, diced
1 tbsp raw honey, as needed for sweetness 
1/4 cup The Grain Market Chia Seeds
Add the strawberries to a saucepan and set over medium heat.
Cook until the strawberries break down and become liquidly, about 5 to 10 minutes.
Mash the fruit with the back of a spatula or a potato masher.  You can make it as smooth or as lumpy as you'd like here for the texture of the jam.
Remove the pan from the heat, and stir in the honey. Taste, and add more honey, as needed, for additional sweetness. 
Add the chia seeds, and stir to combine.
Let stand 5-10 minutes, or until thickened.  The jam will continue to thicken, especially once refrigerated.
Once the jam has cooled to room temperature, transfer it to a jar or sealable mason jar.