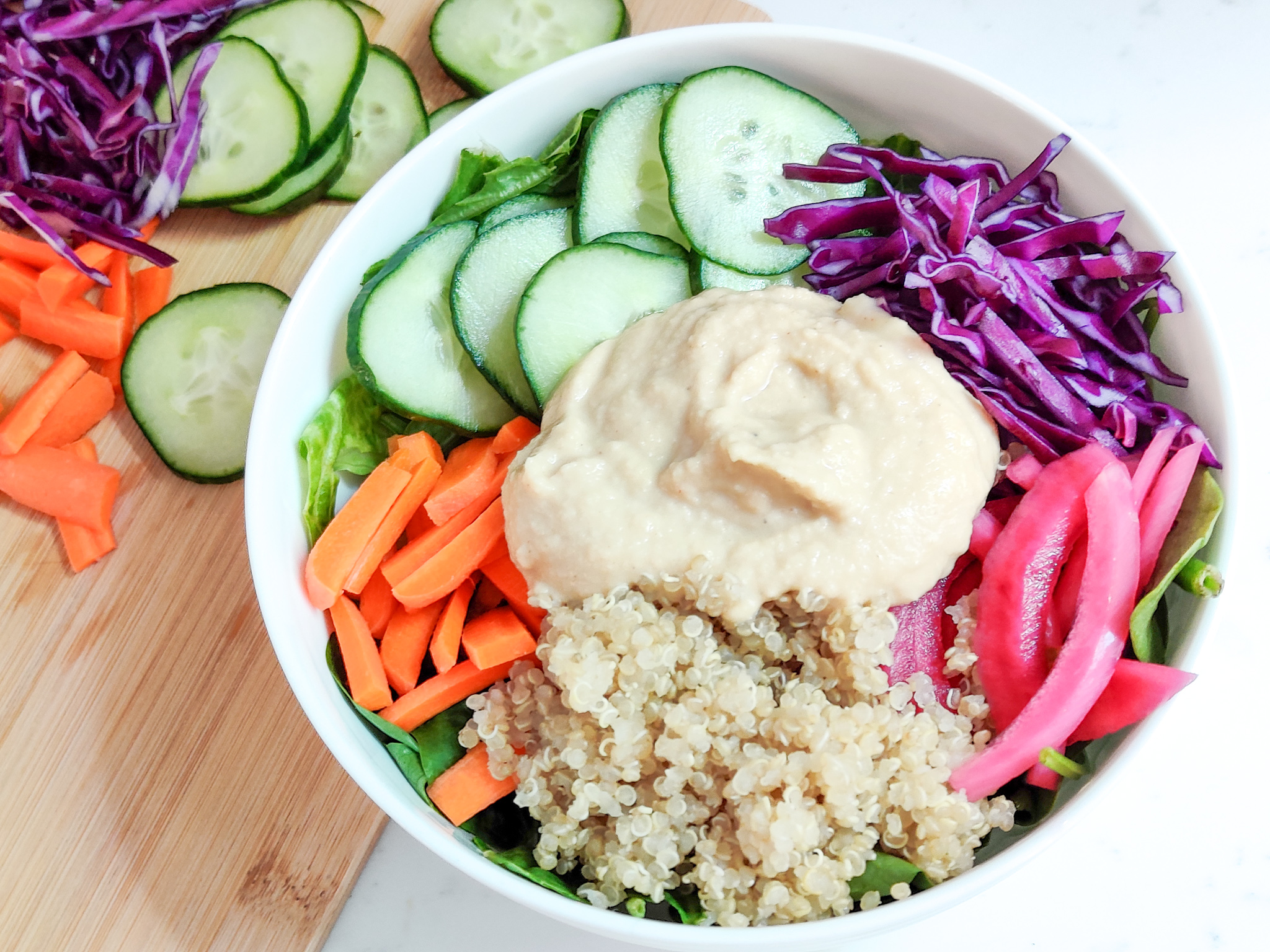 Whether you call it a salad, a nourish bowl, hippie bowl, or a buddha bowl, it is the most wonderful meal ever! They are packed with colors and tastes that seem to be specifically designed by whoever is eating them. Some of the key ideas are: that it all goes into one bowl,  it is loaded with little servings of lots of foods, and it can be served warm or cold. The bowl usually contains a grain such as quinoa, rice, or barley, a plant protein such as hummus, tofu, or beans, and as many veggies as you can fit! It can also be themed like Mexican or Thai.  On my journey to creating the perfect Buddha bowl, I have learned that there is not one!! That is the best part of this wonderful bowl full of food. You can eat them every day on repeat and have a new experience each time.
Here are just a few bowl ideas that we have come to love at The Grain Market.
Our Mexican-inspired bowl is a family favorite. Every Taco Tuesday I make a large pot of beans, sometimes black, sometimes pinto. Then we go to work with the fixings. Spanish rice, guacamole, pico de gallo, sliced olives, pickled red onions, cilantro, a big mix of greens, roasted corn, fresh lime, and tortilla chips. Let's just say we have a hard time fitting everything into one bowl!
Our Sushi-inspired bowl has made the idea of having sushi at home doable! We make some sushi-grade rice and shred up some seaweed. We let everyone create their favorite sushi roll, bowl version. Some toppings we always include are cucumbers, avocados, shredded carrots, pickled ginger, kimchi, red peppers, green onions, edamame, and occasionally boiled eggs. They are fresh and really help fill my sushi craving.
We love hummus around here! So of course we frequently have bowls that are greek style. They contain lots of greens, a variety of olives, pickled red onions, quinoa, cucumbers, diced tomatoes, chickpeas, and lots of hummus and tzatziki. Our homemade hummus really makes this bowl wonderful! 
Hopefully you have been inspired to create a beautiful bowl of your own! 
Be Happy and Healthy!
The Grain Market